CUSTOM ENTERTAINMENT CENTERS
"And now, our feature presentation!"
Among other things,we design and build custom entertainment centers. Some of the types of custom entertainment centers we can produce include the following:
Modern, frameless custom entertainment centers follow a European trend known as the 32 mm system. The vast majority of hardware is made to fit the 32 mm construction system and follows a set of rules that accommodates adjustability. If you want a tight, linear features, this is the style to choose.
Face frame construction consists of the the addition of 3/4-inch thick wood frames around the front of the cabinets.
Freestanding, modular custom entertainment centers that can be broken down for easy transport when you move, when you want to rearrange the room, relocate it or sell it and have us build you another one.
Built-In custom entertainment centers are fixed in place and become fixtures to the structure of the home. They can add value and definitely appeal to buyers when you list your home to sell. (Ryan is also a real estate agent with United Real Estate Louisville)
Custom entertainment centers by Cherrywood Custom are sure to enhance the quality of entertainment life in the home. They are carefully designed, handcrafted, finished, and installed with love and attention to detail.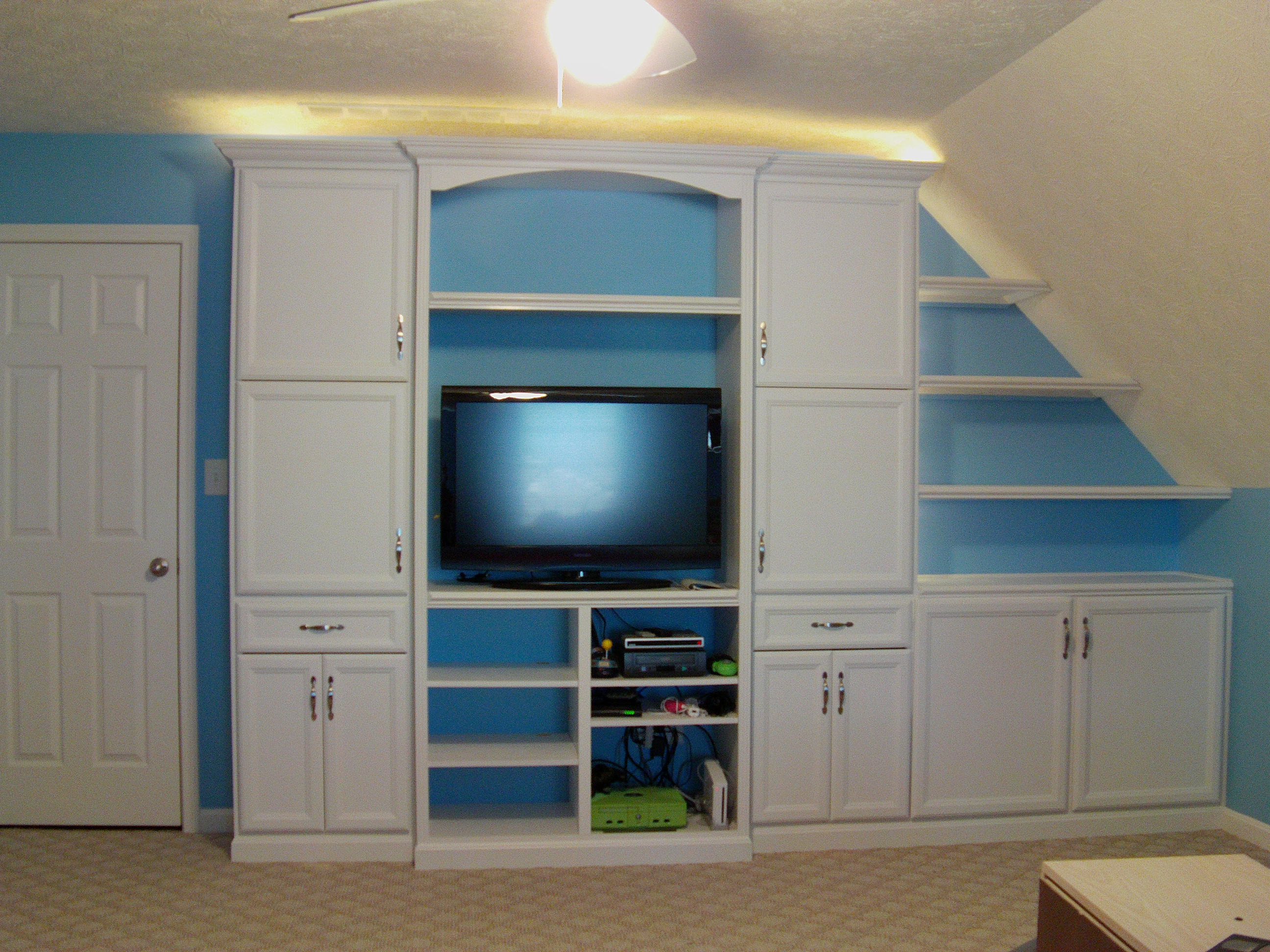 This custom entertainment center was conceptualized and pencil sketched by the homeowner. From her drawing and notes, Ryan was able to bring the concept to digital life, then to build and install it in her daughter's bedroom. Notice the floating shelves in the triangular section. They are securely anchored into wall studs.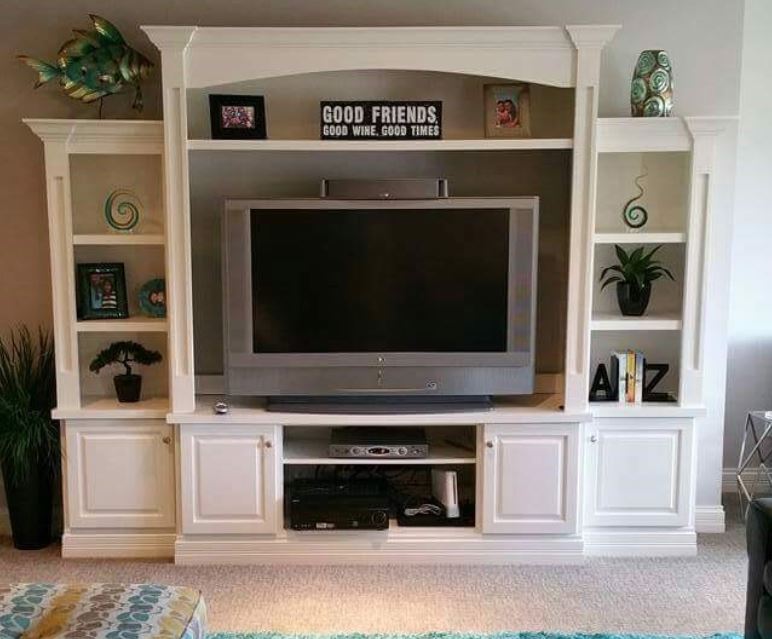 This custom entertainment center is a variation from an original design by Ryan called the Elegant Entertainment Center, built for clients in Lake Forest in Louisville, Kentucky. The original design was turned into DIY Woodworking Plans purchased and build by several people. The PDF plans feature detailed, illustrated instructions, cut sheets, materials and parts list and links to products for easy access. If you'd like to build your own, please visit Cherrywood Custom Plans page.
This custom entertainment center was built to match the existing trimwork and wainscoting in the room. Located Glenmary Subdivision in Louisville, KY, this custom entertainment center became one with the house. This unit features raised panel doors, decorative moldings, wired puck style accent lighting with touch dimmer switch, and concealed wiring.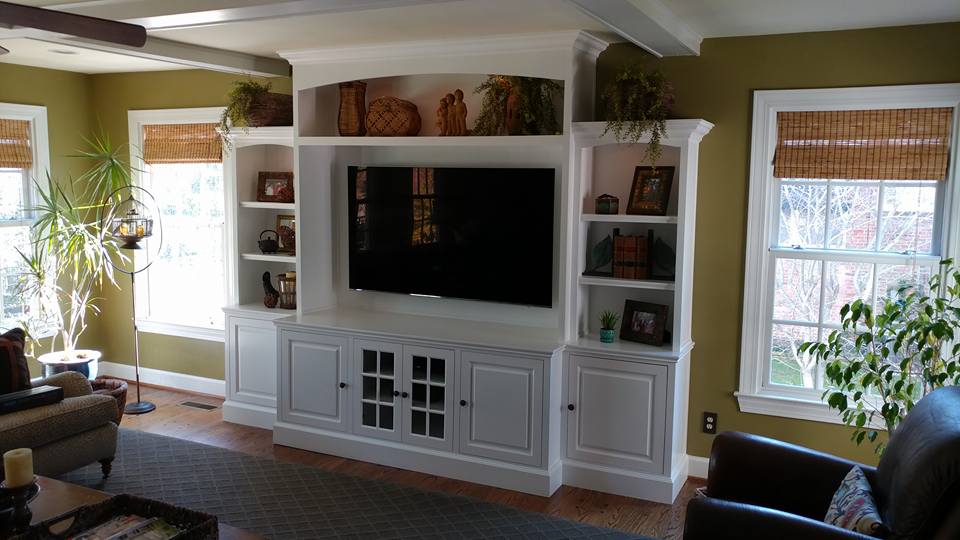 A custom entertainment center we completed in Rolling Fields neighborhood in Louisville, KY. This wonderful piece features sprayed satin lacquer finish, 5-piece raised panel doors on soft-close hinges, decorative moldings, dimmable lights on a concealed touch switch, clear glass 6-lite doors with detailed mullions, and adjustable shelving. The wiring and cables for the TV are hidden behind the wall.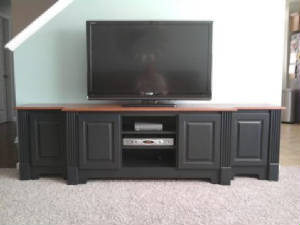 A black custom entertainment console with fluted columns, raised panel doors, concealed hinges and stained oak countertop. This is a piece of custom furniture that can be broken down down into four section for easy movement and transportation. It can be moved easily from one side of the room to the other for reorganizing the furniture in a room.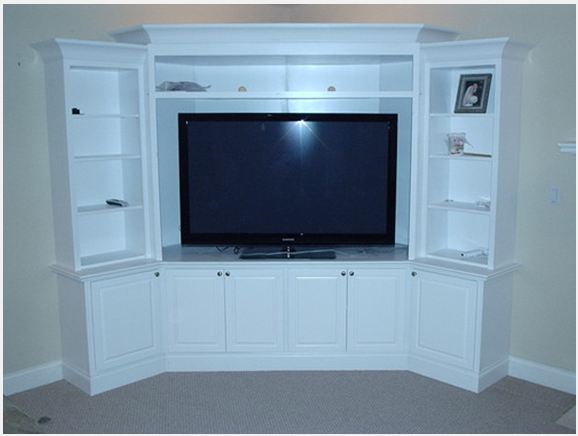 This custom entertainment center was built for a corner in a lower level living room in Hillcrest neighborhood in Prospect, Kentucky. It features raised panel doors, adjustable shelving and was painted white.